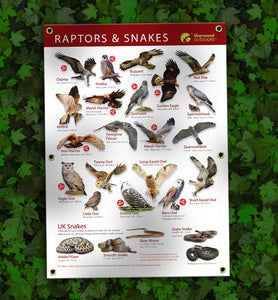 Learn to spot birds of prey and snakes of the British Isles. Designed to go on camp, ideal for woodland activity centres, Forest School or hang in your group activity hall.
Perfect as a teaching aid to build your knowledge of the amazing birds of prey living in the British Isles and snakes of the UK.
Made from high quality recyclable PET and printed in high resolution, using ECO solvents it should have a lifespan in an outdoor environment of 1-2 years.
Size: approximately 594 x 841 mm
These Banners are made to order so please allow 6 working days for delivery.