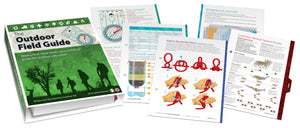 What's in the guide:-
On the hill -

useful hint tips and advice on staying safe in the hills including: planning, travel on steep ground, safety on the hill, dealing with animals, environment and sanitation, country side code.

Equipment

- packing your bag, kit list, rucksacks, boots, fuel and stoves, knife axe and saw.

Shelter

- tarps, hammocks, tents, debris shelters, snow shelters.

Navigation

- understand the compass, understanding maps and contours, bearings, walking speed, estimating distance, understanding terrain, bushcraft.

Weather

- safety, temperature and wind chill, avalanche, clouds, wind, beaufort scale, pressure systems and fronts, weatherlore.

Food & water

- recipes, cooking tips, water collection, filtration.

Knots & lashings

- terminology, rope care, stopper knots, climbing knots, sailing knots, bends and hitches, lashings, whipping and splicing, camp gadgets.

Fire

- trees and burning properties, tinders, how to build a fire, friction fire, fire ignition.

Trees

- identification of 40 common UK trees and their uses, history and mythology, winter twigs, bark, leaf morphology.

Fauna

- common UK animal tracks, dear, mustelids, UK birds of prey.

First Aid

- DR ABC & CPR, burns and scalds, cuts and fractures, seizures and attacks, infections and reactions, effects of heat and cold, stings and bites, natural remedies.

Safety Advice

- the priorities of survival, fire safety, water safety, falling through ice, quicksand and mud, avalanche, signalling, risk assessments.
All put together in a ring binder so you can hand out specific pages or take pages on your walks for reference.
Waterproof & wipe clean so finally an outdoor book you can take....outdoors!
Watch out for future additions to the guide and add them in to your ring binder.
Outdoor Educational Banners
Our 'BIG', tough, waterproof banners, designed for the rigours of Forest School, camps and outdoor activity centres, or in the class room or group activity hall.
Which is your favourite garden bird?
50 of the most common garden birds of the UK, exquisitely hand painted and printed onto 100% cotton rag paper. Available framed or print only. >> Click here to view all 50 birds