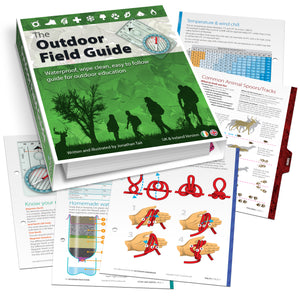 Waterproof and tear proof! Designed for the outdoors!
200 illustrated pages of useful reference material for everything to get going in the outdoors.  Tough, rugged and tear proof - designed to go on camps, be used on outdoor activities and aid learning in the outdoors.
Makes for a wonderful gift for all ages; what better gift than the gift of knowledge and inspiring people to enjoy the outdoors!
Ideal for expanding your knowledge of the outdoors, Schools and Forest School Practitioners, youth groups, Scouts, Boy's Brigade, Girl Guides and Duke of Edinburgh award schemes.
Sections cover:-
On the hill - useful hint tips and advice on staying safe in the hills includes: planning, route card, travel on steep ground, safety on the hill, dealing with animals, environment and sanitation.
Equipment - packing a bag, kit list, layering and clothing, rucksacks, boots, fuels and stoves, knife axe and saw.
Shelter - tarps, hammocks, tents, debris Shelters, snow shelters.
Navigation - 

understand maps and compass, bearings, walking speed, estimating distance, understanding terrain, stars, sun and bushcraft.

Weather - dealing with bad weather, temperature and wind chill, Beaufort Scale, pressure systems and weather fronts, cloud formations, weather lore.
Food & water - safe water and filters, water collection, menu and diet, campfire cooking, cooking tips and useful measures, backwoods cooking, cooking on coals, cooking with foil and recipes. 
Knots & lashings - terminology, rope care, stopper knots, climbing knots, sailing knots, bends, hitches, lashings
Fires & fire lighting
Tree identification - 40 common trees, descriptions, illustrations, history and uses, winter twigs, bark, leaf morphology. 
Fauna - common animal tracks, mustelids, dear and birds of prey (I've included snakes by popular demand).
First Aid - DR ABC and CPR, burns and scalds, cuts and fractures, seizures and attacks, infections and reactions, effects of heat & cold, stings and bites, natural remedies.
Safety Advice - the priorities of survival, fire safety, water safety, falling through ice, quicksand and mud, avalanche, signalling, risk assessments
All put together in a ring binder so you can hand out specific pages or take pages on your walks for reference.
Waterproof & wipe clean so finally an outdoor book you can take....outdoors!
Watch out for future additions to the guide and add them in to your ring binder.
Buying for your group? 10% Discount for 5 and over
5% discount on 2 to 5 copies (use discount codes "2-5 Guides" & "5+ Guides")